Fish Stew Recipe (Quick and Easy)
For a delectable and healthy meal, try out this Quick and Easy Fish Stew recipe. It's a flavourful dish that can be prepared in just 34 minutes and serves 4.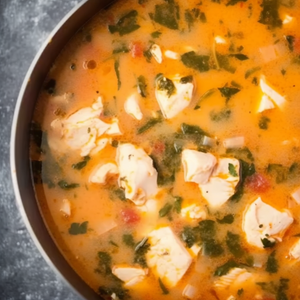 Ingredients (serves 4)
6 tablespoons of premium extra virgin olive oil
1 medium-sized onion, finely chopped (equivalent to about 1 1/2 cups)
3 large cloves of garlic, finely minced
Approximately 2/3 cup of freshly chopped parsley leaves
Either 1 1/2 cups of freshly chopped tomato OR 1 can (14 ounces) of whole or crushed tomatoes with their natural juices
Optional: 2 teaspoons of tomato paste
A bottle of clam juice (8 ounces) or an equivalent amount of fish stock (1 cup)
1/2 cup of dry white wine, such as Sauvignon Blanc
1 1/2 pounds of firm white fish fillets, such as halibut, cod, red snapper, or sea bass, cut into 2-inch pieces
A pinch of dried oregano
A pinch of dried thyme
1/8 teaspoon of Tabasco sauce, or more to taste
1/8 teaspoon of freshly ground black pepper, with additional to taste
1 teaspoon of salt, with extra to taste
Method
1. **Saute the Aromatics in Olive Oil:**
- Heat olive oil in a large, thick-bottomed pot over medium-high heat.
- Add onion and sauté for 4 minutes.
- Add the garlic and cook for an additional minute.
- Stir in parsley and cook for 2 more minutes.
- Add tomato and tomato paste, and gently cook for about 10 more minutes.
2. **Finish the Soup:**
- Pour in clam juice, dry white wine, and add the fish.
- Bring the mixture to a simmer and let it simmer until the fish is cooked through and easily flakes apart (approximately 3 to 5 minutes).
- Season with salt, pepper, oregano, thyme, and Tabasco. Adjust salt and pepper to taste.
3. **Serve the Stew:**
- Ladle the stew into individual bowls and serve.
- It pairs wonderfully with crusty bread for dipping into the flavourful fish stew broth.