Venison Steak Frites
Indulge in a culinary adventure with our exquisite Venison Steak-Frites, elevated to perfection by a tantalising Garlic, Chilli, and Rosemary Marinade. This dish is a harmonious blend of succulent venison steaks, infused with the aromatic essence of fresh rosemary, zesty citrus, and a hint of fiery chili, all coming together to create a memorable dining experience. Paired with crispy, golden shoestring fries, this recipe combines the elegance of marinated venison with the comfort of perfectly fried potatoes. Let's embark on a journey to create this gourmet delight that will leave your taste buds craving for more.

Mermaid Seafoods now offers the exquisite addition of venison in-store, bringing you a delicious alternative to our already exceptional seafood selection.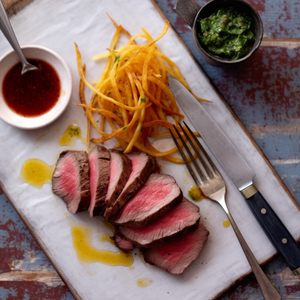 Ingredients (serves 2)
1 clove of garlic
1 dried red chilli
2 sprigs of fresh rosemary
Zest of ½ an orange or 1 lemon
Olive oil
English mustard
Cranberry sauce or redcurrant jelly
Shoestring Fries

500 g baking potatoes
1 litre vegetable oil for deep-frying
Method
Begin by peeling the garlic. Then, using a pestle and mortar, mash the garlic with a generous pinch of sea salt until the consistency turns creamy.
Crumble in the dried red chilli, pluck the rosemary leaves from the sprigs, and add a generous pinch of black pepper. Finely grate the zest of half an orange or a whole lemon, then combine everything into a paste. Thicken the paste with a drizzle of olive oil.
Place the venison steaks in a bowl or a sealable bag, pour in the marinade, and massage it into the steaks with clean hands. Let them marinate in the refrigerator for as long as possible, ideally up to 8 hours.
Peel the potatoes and then slice them very thinly using a julienne cutter. Pat the potato slices with kitchen paper to remove excess moisture.
When you're ready to cook, heat the vegetable oil in a heavy-based saucepan and preheat a griddle over high heat. Grill the venison steaks for 2 to 3 minutes on each side for rare doneness, then allow them to rest while you prepare the fries.
Carefully deep-fry the potato slices in batches for about 5 minutes or until they turn golden and crispy. Remove them from the oil using a slotted spoon, drain on kitchen paper, and sprinkle with sea salt.
Serve the crispy shoestring fries and the marinated venison steaks with a side of English mustard and your choice of cranberry sauce or redcurrant jelly.
Enjoy your delicious meal of Garlic, Chilli, and Rosemary Marinated Venison Steak with Shoestring Fries!